NFT Marketplace Development: Complete Guide
10 May 2023
updated
11 min
Table of content
The crypto market is hyping today, with millions of people trying to join the trend and monetize blockchain solutions in many ways. And the good news is that you can also get a fair share of the rapidly growing market with numerous variants of market entry. From crypto banks to trading platforms, blockchain transforms how digital assets are exchanged and the asset value is created. Today, blockchain is used to build DeFi products closing the traditional finance access gap for unbanked populations; create, trade, and store crypto assets; and establish new digital assets with distinct value. 
One of such innovative assets is non-fungible tokens (NFTs). They operate on the Ethereum platform, one of the top blockchain platforms of modernity, and follow rigorous blockchain standards of security. Thus, NFT creation or establishing an NFT marketplace like OpenSea is a reasonable approach to market entry if you're skeptical about cryptocurrencies or can't afford to go through all the complexities of ICO. In this article, our NFT marketplace development company share their experience in the NFT niche and explain the process of NFT marketplace development step by step so that you capture the intricacies better.
Building an NFT marketplace platform is a reasonable approach to market entry if you're skeptical about cryptocurrencies or can't afford to go through all the complexities of ICO. In this article, 4IRE experts share their experience in the NFT niche and explain the process of NFT marketplace development a step by step so that you capture the intricacies better.
What is an NFT marketplace? 
NFTs are non-fungible and intangible assets, but they still have specific monetary value for their owners. Otherwise, there would be no commercial interest in NFT popularization. So, where can you buy or sell NFTs? Where to showcase your NFTs so that they are bought and sold by users? 
Unfortunately, NFTs are not available for trading on regular crypto exchanges as they represent distinct assets. NFT marketplaces are decentralized platforms on which NFT owners can store and trade their belongings for cryptocurrency. The number of NFT marketplaces is large and growing, with some platforms offering exclusive tokens, while others are welcoming everyone willing to join the NFT sector to sign up and offer their NFTs for sale. Here are a few distinctions to keep in mind. 
Universal NFT Marketplaces 
World-known universal platforms like OpenSea, Rarible, and Mintable offer all kinds of NFTs on sale, ranging from domain names to digital art to music to game collectibles. They are open and democratic for new users, allowing anyone to generate Ethereum-based assets and start selling them.  
Specialized NFT Platforms 
Specialized, or niche, NFT platforms attract investors looking for specific NFT types. For instance, the Valuables platform is a place to buy tweet NFTs, while Looking Glass Factory features digital holograms. The Sandbox Marketplace includes only NFT assets used in The Sandbox, while Foundation is a premier marketplace featuring artwork auctions for invite-only artists. 
NFT Galleries 
Unlike NFT marketplaces, NFT galleries do not allow selling or buying these tokens. These are the equivalents of traditional galleries where owners showcase their NFTs and organize thematic exhibitions and shows. This is done to popularize the NFT concept. 
The golden standard for NFT creation is the Ethereum blockchain. However, many alternative solutions have emerged recently, with NFT marketplaces on other blockchains currently under development. OpenSea functions on Ethereum and Polygon, Rarible, Foundation, and SuperRare are Ethereum-only marketplaces. New developments include Atomic Hub (a Wax-based NFT market), NFT Showroom built on Hive, VIV3 built on Flow, and BakerySwap on BSC. 
Schedule a meeting with our CTO
Still have questions or concerns? We're ready to discuss your NFT project in detail. Let's make your project more manageable and understandable together.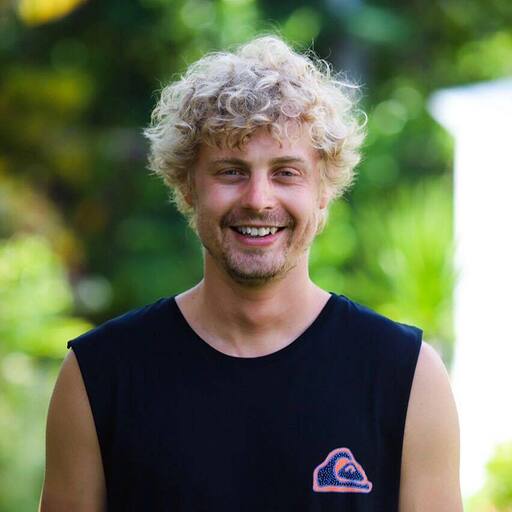 The Benefits of NFT Marketplace
So, why consider NFT marketplace app development as your next business project? This platform can become an excellent monetization tool due to the broad functionality of NFT creation, sale, and purchase. NFT fans are always on the lookout for feature-rich, convenient platforms with user-friendly fees for conducting NFT transactions. Thus, if you manage to create sleek, appealing NFT marketplace software with a realm of fancy features, you're sure to attract a loyal following and earn stable revenue from this digital resource. Other pointers to the importance of NFT marketplace projects in the modern blockchain market landscape are: 
Ability to focus on a narrow niche and attract a target audience with precisely suited solutions. 

Participation in the Web3 evolution of digital space. 

Investment in promising, innovative technologies. 

Infinite scalability with the inclusion of new NFT collections, partners, and compatible wallets.
Why are NFTs trending now? 
The crypto boom has left a trace on everything connected to the blockchain. The latter is a viable solution to traditional banking, finance, and a solid alternative to old-school technological approaches. Thus, there is much optimism about blockchain development services in the coming years, with NFT included. 
Statistical data proves the ever-increasing interest in, and capitalization of, the NFT market. In 2018, there was only around $40 million of NFT investment, with the figure reaching $141+ million in 2019 and exceeding $338 million in 2020. After only five months of 2021, the NFT market cap has already risen by over $100 million to reach $432 million. The leading NFTs and collectible tokens dominating the market include THETA, CHZ, and ENJ.    
Thus, the future of NFTs seems promising, with increasing investor attention and broadening the scope of offers on the NFT market. The key favorable factors for the NFT market development include: 
The hype around blockchain, cryptocurrency, and digital assets 
Simplicity and user-friendliness of creating, buying, and selling NFTs 
People's readiness to invest in digital artwork and unique artifacts 
As you can see, the demand for NFTs is real. It's enough to recollect the $100,000 price for Cryptokitties or a Crossroads sale for $6.6 million, let alone the sensational Everydays deal for $69 million. Beeple, a famous digital artist, has already sold NFTs for the cumulative value exceeding $100 million, while Crypto Punks' collectibles reach $1 million in price each. 
How do NFT marketplaces work? 
So, how does an NFT marketplace function, and what does it derive revenue from? In other words, what's the sense or value of creating your custom NFT marketplace, and is such an endeavor worth the hassle? 
Such marketplaces get a commission for NFT transactions and gain revenue from the "gas" fees paid by the artists using their blockchain platform's capacity for NFT token generation.
On the user side, the NFT market's procedures look as follows: 
New users come to the platform and register there. 
They create a crypto wallet or link an existing one with the platform.
Artists create NFTs on the platform's Ethereum (or other) engine and set up the price for their assets. 
The user's collection is checked and validated by the marketplace, getting into open display after that. 
Buyers place bids if they want to buy the NFT, and the auction takes place. 
After the auction is over and the best bid wins, the NFT marketplace organizes the smart contract-based transfer of NFTs to their new owner.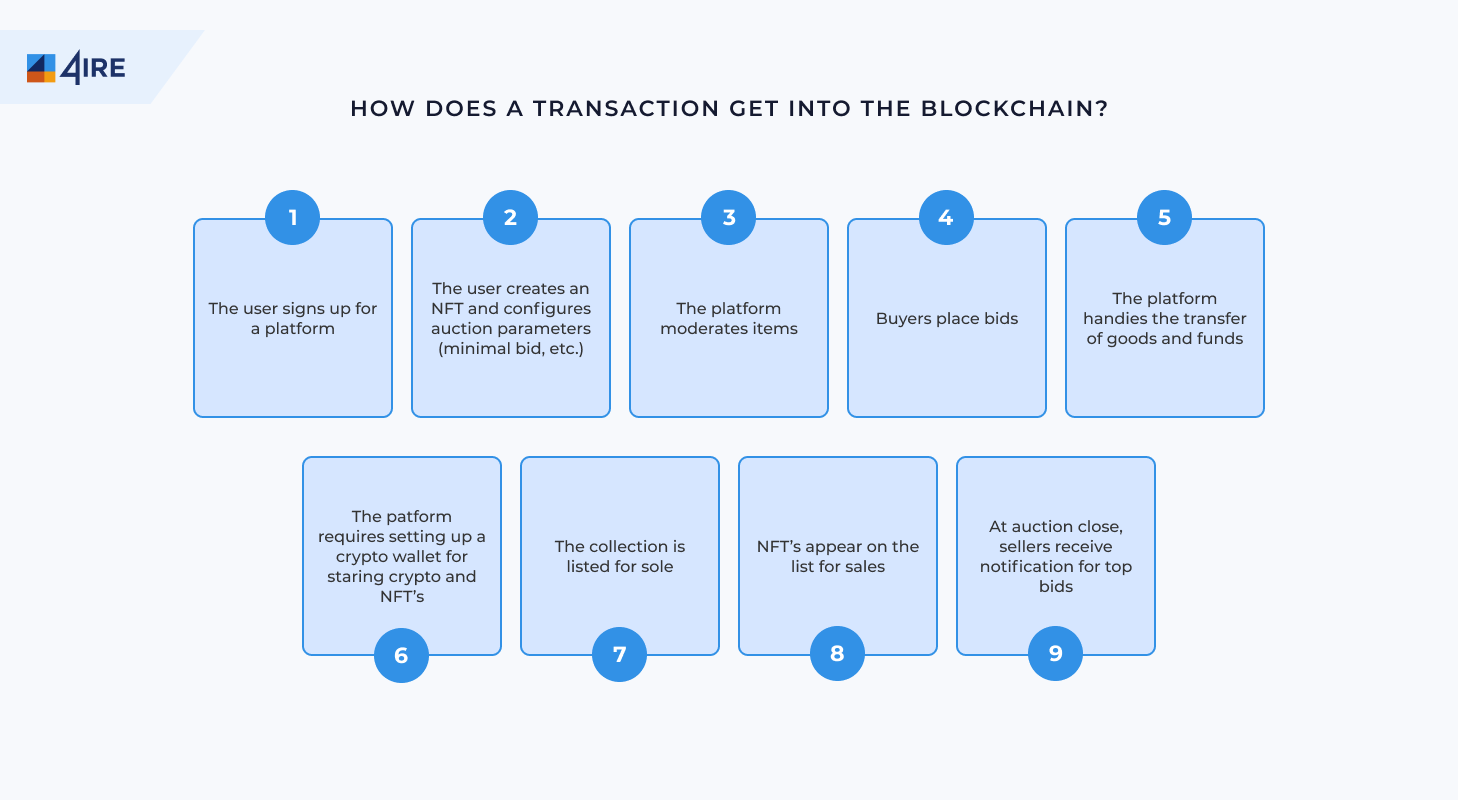 Features of an NFT marketplace 
NFT marketplaces are essentially blockchain-based, so for them to function well, they need to include some NFT marketplace features and functions integral for such a service. At a minimum, you should incorporate the following into your NFT market project:
Blockchain engine for smart contracts token generation. As NFTs are transferred to a new owner, the transaction should be validated in the relevant blockchain.  
Features enabling users to buy and sell NFTs. As you have a marketplace, it should have the functionality for buy/sell operations. 
A user-friendly, functional UX/UI. Both artists and users should find your NFT marketplace navigable and understandable to conduct their transactions here. 
Auction features. There is a specific set of features required for digital auctions at NFT marketplaces.  
Financial transactions. Artists should be able to withdraw their earnings; clients need to pay for their acquisitions; the NFT marketplace should get its fees. 
Artist ratings. An intelligent system of artist ranking can help users find the most popular and trending NFTs quickly. 
Search filters. Users coming to find specific NFT types should be enabled to filter the list of offers. 
Crypto-wallet integration. As payments for NFTs are now made in cryptocurrencies, the NFT marketplace should have a functional, secure system of crypto wallet integration. 
So, include all these aspects in the NFT marketplace development process and discuss the technological options for each stage's implementation.
NFT Marketplace Architecture
Those new to how to build an NFT marketplace should understand its primary components and architecture first.
The architectural elements you need to have in your NFT marketplace are as follows: 
The underlying blockchain

. Many blockchains are worth your attention today; the classics include Ethereum, Ripple, and Solana, with more modern alternatives like Avalanche and Tron gaining momentum. Regardless of the chosen blockchain, you should weigh its pros, cons, and suitability for your project's technical specifications. 

NFT minting functionality

. Minting is what artists look for in the NFT marketplace solutions; they want to have an all-in-one resource for creating their NFT collections and selling them to interested users. Thus, you will never go wrong by integrating the minting feature to earn on the gas fees of artists and attract more visitors. 

Various token support.

Many NFT standards are available in the market, like ERC-721 and ERC-1155. The more standards your marketplace supports, the larger number of transactions it will enjoy. 

Seamless navigation

. User interface quality makes or breaks the success of your platform, as modern users opt for intuitive, convenient UIs and quickly abandon cumbersome resources with a huge learning curve. 

Product catalog

. Your users should access the entire spectrum of available NFTs in a user-friendly and customizable catalog, with a broad filter of search parameters. 

User authentication and registration

. Security is key in any digital project, and your NFT marketplace will benefit from a convenient, quick, yet safe registration and authentication of users. Biometric or two-factor authentication can protect user data and assets from theft and unauthorized access. 
These components will help you develop an NFT marketplace that serves the end-users well and doesn't pose any friction or problems for you as a business owner.
Tech stack for NFT marketplace development 
Once all features you want to see in your NFT marketplace are clear, it's time to choose the tech stack required for the project's practical implementation. You'll need to choose a blockchain platform, a storage platform, a front-end development framework, and the NFT standard supported on your marketplace. 
Blockchain platforms 
You need a blockchain platform as it will be the basis for your NFT marketplace functioning. Ethereum is the classical choice of NFT platform developers because of the publicly verifiable nature of transaction history and token metadata, giving the NFT transactions added security. The standard back-end of all Ethereum-based NFT marketplaces allows NFT owners to transfer their tokens efficiently. Flow is a newer option for digital asset, game, and app creation that NFT developers like for its simple, user-friendly Cadence programming language. Tezos is also a popular choice because its FA2 NFT contracts suit the NFT marketplace creation objective perfectly. Finally, the Cardano platform boasts top-notch security and sustainability.
Read Also: Top Blockchain Programming Languages
Storage Platforms 
Once you approach an NFT marketplace project, you need to decide where NFTs will be stored. For this purpose, the IPFS hypermedia protocol or the decentralized Filecoin storage network will be ideal matches. Pinata can also be a suitable choice as it's compliant with IPFS and ensures secure, verifiable NFT storage. 
NFT Standards 
To date, the NFT-supporting standards include ERC-721, ERC-1155, FA2, dGoods, and TRC-721. NFT marketplace creation for each of them comes with specific technological issues, so you need to choose a viable option with your development team. 
Front-end 
The most popular developer choices for NFT marketplace front-end development include Vue, Angular, and React. All of them are simple and coder-friendly, delivering quick results with sleek, easily navigable designs. 
How to create an NFT Marketplace? 
The process of NFT marketplace development is complex in technical terms, but you can make it simpler and more manageable by following this step-by-step process. 
Business analysis 
At this stage, you will determine the core business goals and strategy for your NFT marketplace. Will it be an open or invite-only platform? What NFTs will it feature? What blockchain will be used for asset tokenization? What analytics will you employ? How will you make your marketplace unique and popular among clients? 
Technical design 
Next comes the stage of technical features' design (back-end). Here you need to develop the complete technical infrastructure of the marketplace, deciding how user profiles will be created and managed, where the NFTs will be stored, what payment solutions will be linked to the system, etc. By the end of this stage, you should develop a clear project architecture and a technological set of features for further development.
UX/UI design 
After the back-end, the time comes to front-end design. You need to create a prototype, select brand colors, design mockups of user pages, and come up with the final design for your product. Don't underestimate this stage, as the UI is what your users will see. So, if they don't like the NFT marketplace's visual design or don't understand the navigation, they won't stay with you. 
NFT dApp development
The blockchain development team starts the software development stage based on the agreed technical specifications. Software engineers will build some features from scratch, tying your back-end and front-end together and making it all work optimally.  
QA testing 
Once the NFT marketplace is ready, the QA team runs multiple checks of all its features, such as registration, user profile creation, payment, wallet linking, etc., to identify any bugs and pitfalls. After troubleshooting and fine-tuning, the product may be regarded as ready for the launch. 
Launch to market 
The NFT marketplace's launch is an art on its own. You can launch your NFT project in one go or opt for several iterations. Another option includes continuous integration, which is less user-friendly but easier in technical terms. Consult your developers to choose the most optimal variant for your specific project. 
Support and maintenance 
The development team's work doesn't end upon launch. Once new users join the NFT platform and add new NFTs, you may need support and maintenance. The NFT marketplace also needs regular updates and new feature integration, which is continuous work on your project's smooth operation. 
SDKs versus custom development 
After the NFT marketplace idea and project are ready, you should start thinking about the team to bring your project to reality. One of the easiest solutions is to take a ready-made NFT marketplace SDK (e.g., OpenSea SDK) that allows quick NFT platform setup. However, pre-made templates allow little customization and scaling, which is unacceptable if you have far-reaching plans for NFT business development. So, we recommend hiring a custom development team that will code everything from scratch, applying top-notch blockchain solutions, and giving your project enough flexibility and scalability. 
How Much Does It Cost to Develop an NFT Marketplace?
The cost of NFT marketplace development is one of the primary concerns of all businesses planning such projects. Expenditures can indeed climb really high, so it's critical to make precise calculations before the project's onset. However, there is no universal figure to name, as all projects are unique and require a different number of resources. 
Let's clarify what the NFT marketplace development cost depends on: 
Development from scratch or use of a white-label solution. 

The underlying blockchain technology. 

The number and complexity of features. 

Location of your development team. 

The niche of your NFT marketplace. 

The number of resources (tech stack and number of staff) required. 

The deadline. 
Based on these parameters, you can get a functional NFT marketplace for anywhere from $50,000 to $500,000+. So, discuss your business idea with an NFT marketplace development team to get a more precise estimate of your project's cost.
How we can help 
If you have decided to set up your NFT marketplace, the 4IRE team of developers will be pleased to bring you closer to this project's implementation. With over 10 years of experience in blockchain development and service, we have in-depth expertise and a universal tech stack to offer. Our custom development team will tailor the NFT tech stack to your demands and existing IT infrastructure, ensuring smooth back-end and front-end development, rigorous QA testing, and timely market launch. Talk to our experts today to see how easy it is to get a well-functioning, innovative NFT marketplace to monetize your blockchain services and ideas. 
FAQ
Why create an NFT marketplace in 2023?
There are many reasons for choosing an NFT marketplace as your next investment. First, the NFT market is steadily rising today, promising a consistent increase in the loyal audience and the number of NFT projects on which you can make money. Second, such a platform can become a steady source of income, as it generates revenue from gas fees for NFT minting, advertisements, and user transaction fees. Third, NFT marketplaces are a great complementary resource for P2E projects, various specialized uses (music, art, real estate), and many more use cases to come. 
How do NFT marketplaces make money?
NFT marketplaces offer many monetization opportunities for their owners. The most significant source of revenue is the commission for transactions that users complete on your platform; every NFT marketplace charges a small service fee for on-site trades with NFTs. Second, the artists minting NFTs on your platform will pay the gas fee costs, which is also your revenue. Third, you can partner with projects and post their advertisements and promo campaign materials on the platform in exchange for the project tokens or money, thus earning a stable profit from this resource. 
What are the challenges of NFT marketplace app development?
The first challenge your development team should address at the stage of development is the marketplace's scalability. If your resource gets immensely popular, it can easily get congested, with the users suffering low transaction speed and high gas fees. These discomforting issues may quickly drive many users from your resource, so it's vital to use Layer-2 scaling software specifically meant to counter these limitations. Second, it is vital to keep legal compliance under strict control; all elements of your platform should follow the rules in your jurisdiction to help you avoid fines. Third, you should provide artists with rigorous copyright protection and give enough attention to UI/UX matters, thus ensuring that all users have an easy and rewarding experience on your platform. 
How to reduce the time for developing an NFT marketplace?
The simplest way to cut the time needed for NFT marketplace development is to opt for a minimal set of features for its proper functioning. Yet, such platforms may enjoy little success among savvy users who want the versatility of features from their chosen NFT marketplaces. Second, you can buy proprietary white-label NFT marketplace software from a reliable provider and customize it quickly to give it a unique look and feel.
Learn more from us
Top 5 DeFi Lending Platforms to Watch Out in 2022
Learn more about the mechanics of crypto lending, the benefits and risks of this kind of crypto asset management, an ...
27 Aug, 2021
Clutch Recognizes 4IRE as Estonia's Best-Ranking B2B Company for 2022
We are excited to announce that Clutch named 4IRE as the best-ranking Estonia`s B2B Company in 2022! Check out the d ...
25 Oct, 2022