Everything You Should Know about Initial DEX Offering
13 Aug 2021
updated
11 min
Table of content
The rapid advancements in blockchain and crypto have led to massive transformations in the ways business owners raise funds for their new tokens today. There is no need to get loans from Neobanks or do all the project financing on your own. With the advent of initial coin offerings (ICOs) mimicking the principles of IPOs on the traditional stock market, the task of financing new blockchain initiatives has become way simpler and more manageable. 
The major drawback of ICOs is the project owner's need to conduct all ICO-related operations on their own, attracting liquidity and investors. An IDO has emerged as a simpler alternative, with all the token launch procedures undertaken by a DEX – decentralized crypto exchange to which you entrust the launch for a fair commission. 
IDOs are quickly gaining popularity due to their ability to shorten the time-to-market for new tokens, guaranteeing their quick entry into circulation backed by the DEX's existing liquidity pool. Thus, participating in an IDO or launching your own token via an IDO becomes a great way to monetize your blockchain project quickly. Here the 4IRE team provides a detailed overview of DEX offerings and explains the ins and outs of the IDO process.
What is a DEX Offering? 
Understanding the principle of DEX offering is possible once a DEX concept is clear. DEXs, or decentralized exchanges, are a modern alternative to CEX – centralized exchanges – where the users can trade and exchange their crypto assets. The benefit of DEX compared to a more centralized and controlled CEX is the absence of a third-party controller, allowing the users to store funds they want to trade on their personal crypto wallets, releasing the funds on a peer-to-peer basis under the protection of smart contracts. 
Obviously, trading assets on DEXs is riskier because of the absence of a controller, which makes only you responsible for your funds' security. On the other hand, DEXs are increasingly popular because of the greater privacy and absence of KYC demands, as well as greater control over user funds as opposed to the CEX requirement to store assets in the platform's wallet. 
A DEX offering is thus a launch of a new crypto token or coin on a specific DEX. Unlike an ICO that is typically organized by the coin's creator on their own, an IDO is fully managed by the assigned DEX placing the token on its exchange list and ensuring that the trading activities function correctly. If you want to know more about creating a DEX, read about it in our other article.
What is Initial DEX Offering? Intro to ICO, IDO, and IEO 
If the coin/token enters the market for the first time and starts trading on a specific DEX, it's termed an initial DEX offering (IDO). Thus, the IDO is a unique chance for a crypto project owner to attract money for the project's progression and at the same time enjoy full decentralization and privacy of fundraising.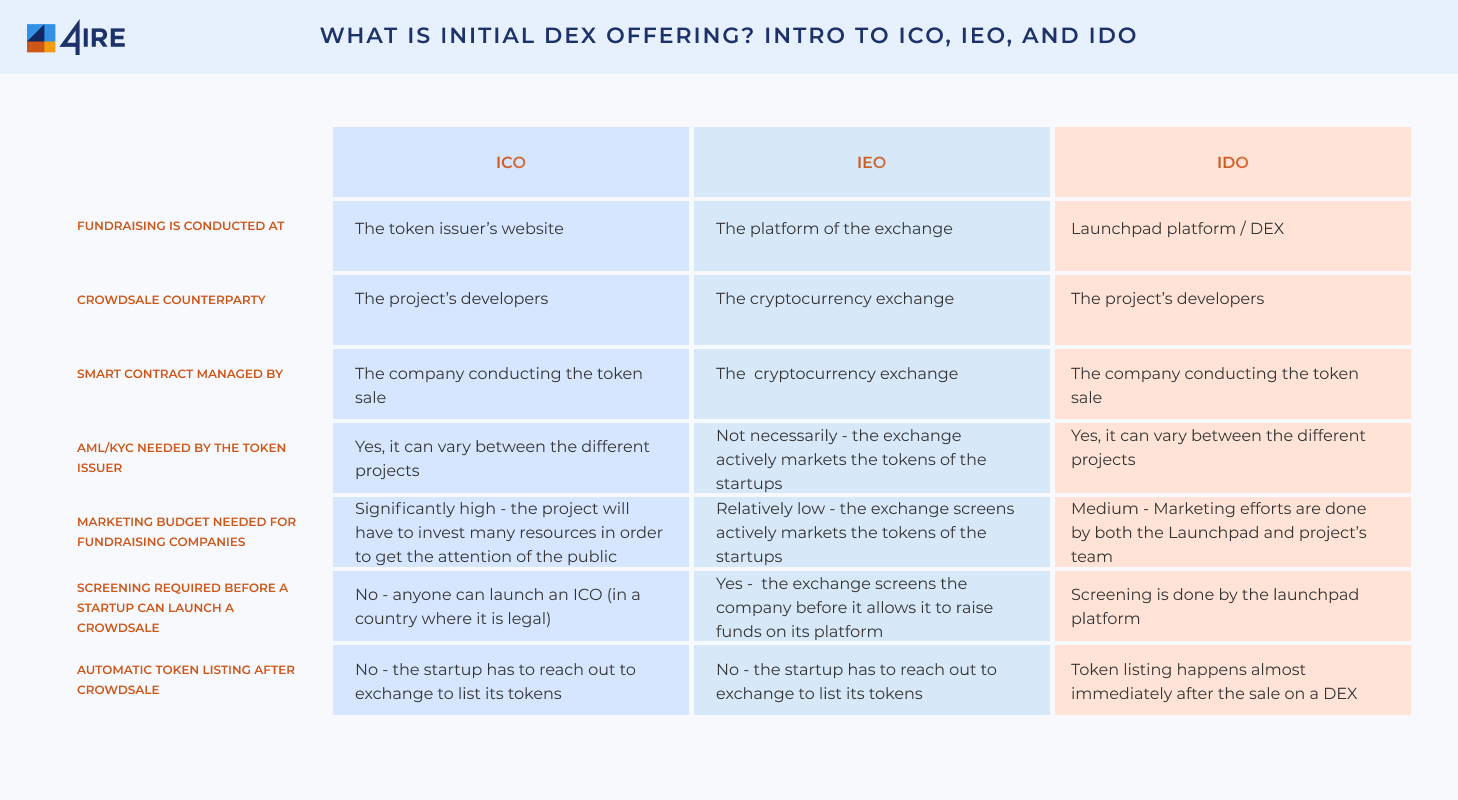 IDOs differ significantly from other popular models of fundraising in crypto, such as ICOs and initial exchange offerings (IEOs). Here is a brief account of their distinctions: 
In terms of

fundraising

, IEOs attract money via a new token's sale on a CEX, ICOs are sold through

blockchain platforms

, and IDOs – through DEXs. 

Marketing and advertising

are undertaken by the responsible CEX (for an IEO), DEX (for an IDO), and an in-house project team (for an ICO). 

The issue of

trust

is handled differently. To participate in an IEO on a CEX, users need to complete KYC forms and comply with the KYC/AML regulations. DEXs do not require

KYC/AML compliance

from their IDO applicants. In the case of direct ICO participation, requirements differ, but the problem of fake or misleading information from the coin's issuer is a pressing problem. 

Security

trade-offs are also unique in all three models. IEO participants benefit from high security levels guaranteed by the CEX, while IDO participants enjoy total privacy and control over their funds, coupled with asset security. ICO participation is much less secure as the users provide funds directly to the ICO organizer and have no guarantees of success. 

Different mechanics of these models contribute to distinctions in

fees

. Thus, a CEX charges fees from the users for an exchange, while ICOs do not presuppose any fees. DEXs also pose no fees, with the users only needing to pay the gas fee for the transaction's completion on the blockchain. 
How Does Initial DEX Offering Work? 
Now that the essence of an IDO is clear, let's see how one can launch an IDO for their token. Token owners wishing to launch their tokens for public trading need to present their project on the launchpad or an IDO-specialized platform. If the project sounds appealing, investors get interested in it and buy tokens within the pre-IDO round before they become available on the DEX. 
As a token seller, you can allow applicants to purchase your tokens in two different ways: 
By setting a fixed price for the token that changes once the demand increases and price goes up; 

By organizing an auction, with the price dynamically determined by the supply and demand fluctuations. 
It's also typical for the pre-IDO sales of tokens to take place on a lottery basis, where different participants stake their funds and participate in the lottery to get or not to get some coins in the end. 
Benefits of IDOs 
Those who decide to opt for an IDO may enjoy several indisputable benefits of this fundraising model. Experts point out the following IDO strengths: 
Since DEXs do not pose any fees on the users and operate based on the smart contract regulation, both users and IDO launchers may benefit from the comparatively lower cost of IDOs compared to other fundraising options. The only commission is the gas fee from the peer-to-peer transaction, which usually doesn't exceed 0.3%. 
Instead of launching an extensive marketing campaign and organizing all the technicalities, IDO organizers can see their coin starting to trade on the very first day of the project's launch on the DEX. If the DEX has a large liquidity pool and numerous users, the coin's value may quickly increase as a result of traders' wish to gain profit from its popularity. 
Access to liquidity pools 
The amount of money attracted from ICOs depends on how well the marketing campaign was organized and how many investors were engaged. During an IDO, however, the token's owner gets access to an existing user database and liquidity pool of the functioning exchange, thus increasing their chances of having their token actively traded and increasing in value. 
Openness and fairness of transactions

 
IDOs promise both the token owners and the DEX users greater security and transparency of activities. The former get their coins publicly traded, while the latter are in full control of their funds and assets. DEXs thus eliminate the risk of fake tokens or scams by checking the IDOs before their launch.
DEX promises greater anonymity to token buyers because of no need to comply with KYC/AML requirements. Besides, the users don't need to transfer funds to a DEX wallet, thus preserving full control of their money. As a result of such an organization of trading, users enjoy greater transaction security.
Still have questions or concerns?
Contact us to schedule a meeting with our CTO to discuss project milestones, budget, and technical requirements. Let's make your project more manageable and understandable together.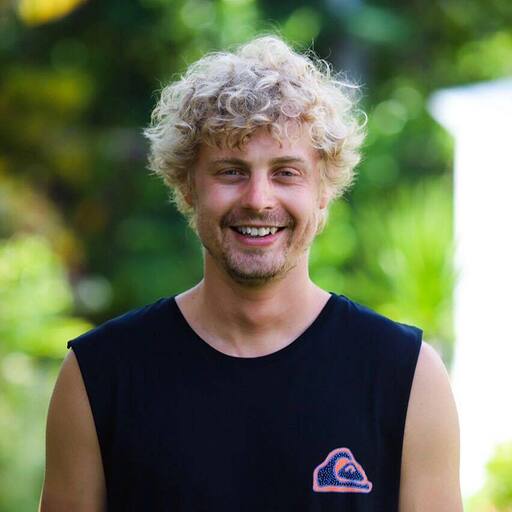 Initial DEX Offering List 
IDOs are plentiful, with hundreds of new crypto projects launched in hope to attract investor funds. If you're interested in IDO participation, you can always check the list of ongoing and upcoming IDOs on the DEX platforms and popular launchpads. The most awaited IDOs of 2021, which already completed or take place at the moment, include: 
BENQI 

MakiSwap 

TeraBlock

Don-Key 

Refinable 

Cere Network 
TOP 5 Initial DEX Offering Platforms 
Once you decide to participate in an IDO or consider launching your own token via the IDO model, it's time to choose the platform for jumpstarting your asset correctly. Here are the top 5 IDO platforms to choose from: 
Polkastarter 
Polkastarter is one of the world's most famous IDO platforms where investors reap enormous profits from IDO participation, and IDO launchers get guaranteed crowdfunding. They give access to IDO investment to those winning in a lottery and holders of the POLS token. 
Binance Launchpad 
This subsidiary of Binance gives access to over 10 million users to IDO projects. Here, you need to file KYC forms to take part in the IDO offerings. IDO creators also need to go through checks to get access to the platforms' user base. 
TrustSwap 
This ETH-based launchpad started hosting IDOs in 2020, helping users and IDO creators come together and enjoy mutually satisfying, secure terms. The platform also has its own SWAP token that allows members to stake for new IDOs. 
Card Starter 
Positioning itself as a decentralized accelerator and swapping platform, Card Starter runs on the Cardano blockchain. Users can stake for new IDOs with the help of their CARDS tokens. 
BSCPad
This platform was the first to operate on Binance Smart Chain Network. It enjoys the reputation of a revolutionary launchpad solving the flaws of previous launchpads, mainly in terms of user staking, security, and IDO process organization. 
FAQ
The IDOs function as fundraising for the companies launching their branded tokens and wishing to get them into broad circulation as soon as possible. IDOs are typically done by the DEXs – decentralized exchanges on which the new token is traded for other tokens and stable coins. Thus, the new token's owner gets the benefit of the DEX's liquidity, which may help jumpstart the new token quicker than through an ICO. 
What is the difference between IDO and ICO? 
ICO is also a crowdfunding model for the launch of new crypto coins into circulation. Still, it has some drawbacks that push investors away from many ICOs. First, it is less secure than IDO as in the first case, the coin's creator holds all responsibility for the technical part of its circulation, while in the second case, it is a large, reputable exchange that takes the lead. Second, ICOs are less attractive for long-term investments because of the high scam and fraud risk they entail. 
In fact, IDOs can take place only in the crypto world, as the principle of DEX functioning is the exchange of tokens and coins. Thus, initial DEX offerings involve a launch of a new crypto asset to the market via one of the well-known DEX platforms.
What are the risks of going for IDO? 
IDO-related risks are generally similar to those of the general crypto market, such as a risk of liquidity scams and getting fake tokens in exchange for real, valuable crypto assets. Another risk is IDO-specific, which is the limitation of the token's creator over the token launched via an IDO. They cannot monitor who bought how many coins, thus risking the loss of control over the project once a large-scale investor buys and holds the major portion of their tokens. Finally, the price fluctuation trouble is serious with IDOs, with some traders gaining advantage of the price rises during the first swaps and then selling the acquired tokens at a much higher price, manipulating the market. 
What do I need to launch an IDO?
You need to choose the blockchain platform for your IDO and draft a strategic white paper presenting your token attractively. After running an IDO with one of the DEX platforms, you will get the funds for your project's further development. Further token value increases are possible if you provide high-quality services and advance your project. 
Learn more from us
Blockchain Use Cases
Data science
11 min
Choosing a Blockchain for Your Next Decentralized Project: Detailed Comparison of Blockchain Ecosystems
The blockchain market is growing at a rapid pace and it`s promising an exciting decade for all blockchain businesses ...
12 May, 2022
Top 10 Projects on Polkadot You Should Watch Out in 2021
Learn more about the top Polkadot projects in 2021 to join only high-quality projects and reap the benefits of sleek ...
31 Aug, 2021